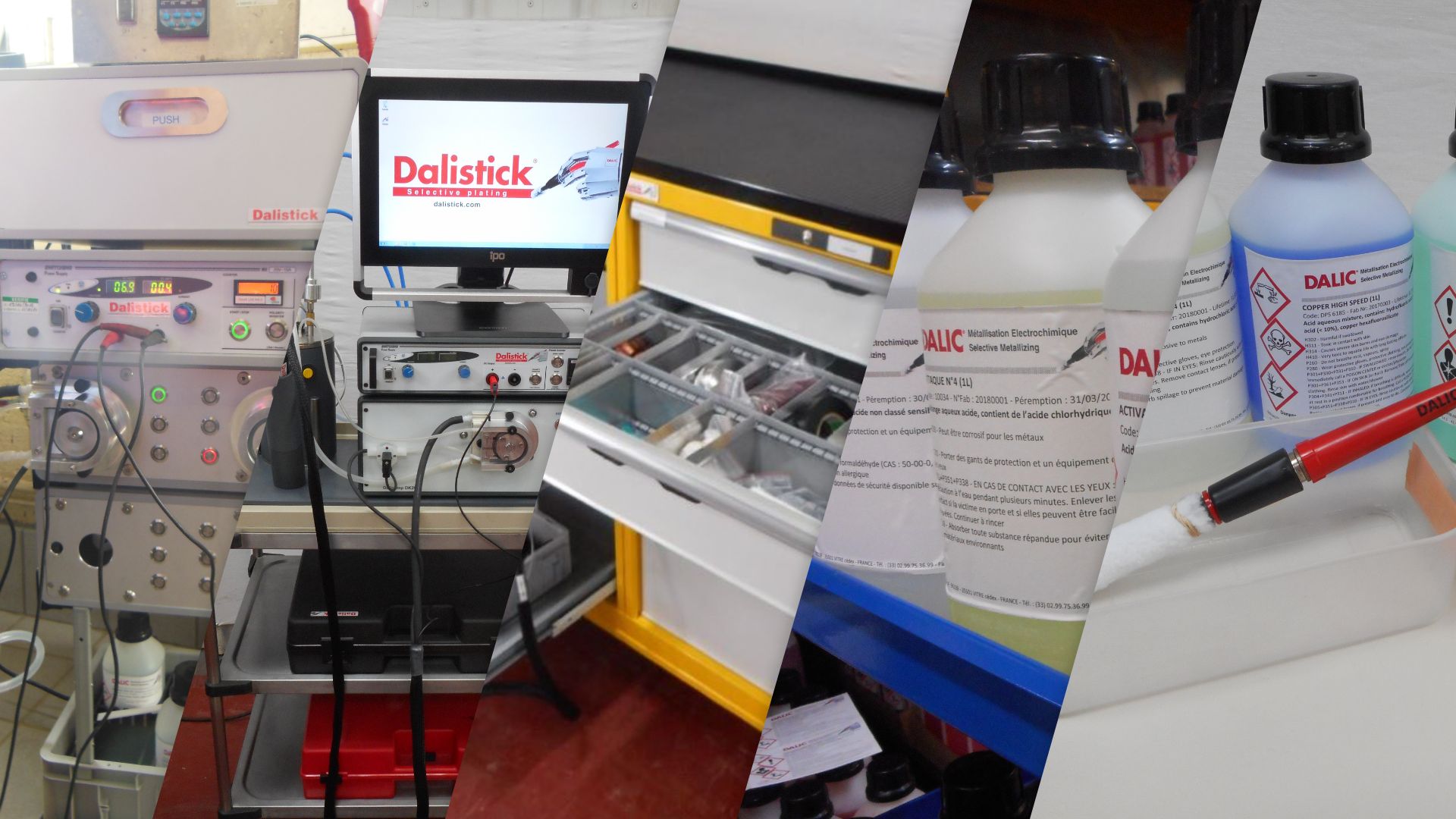 Products
DALIC Products
Dalic specializes in the manufacture of electrolytes and the sale of equipment, tools, consumables and accessories to meet your selective brush plating requirements
DALISTICK®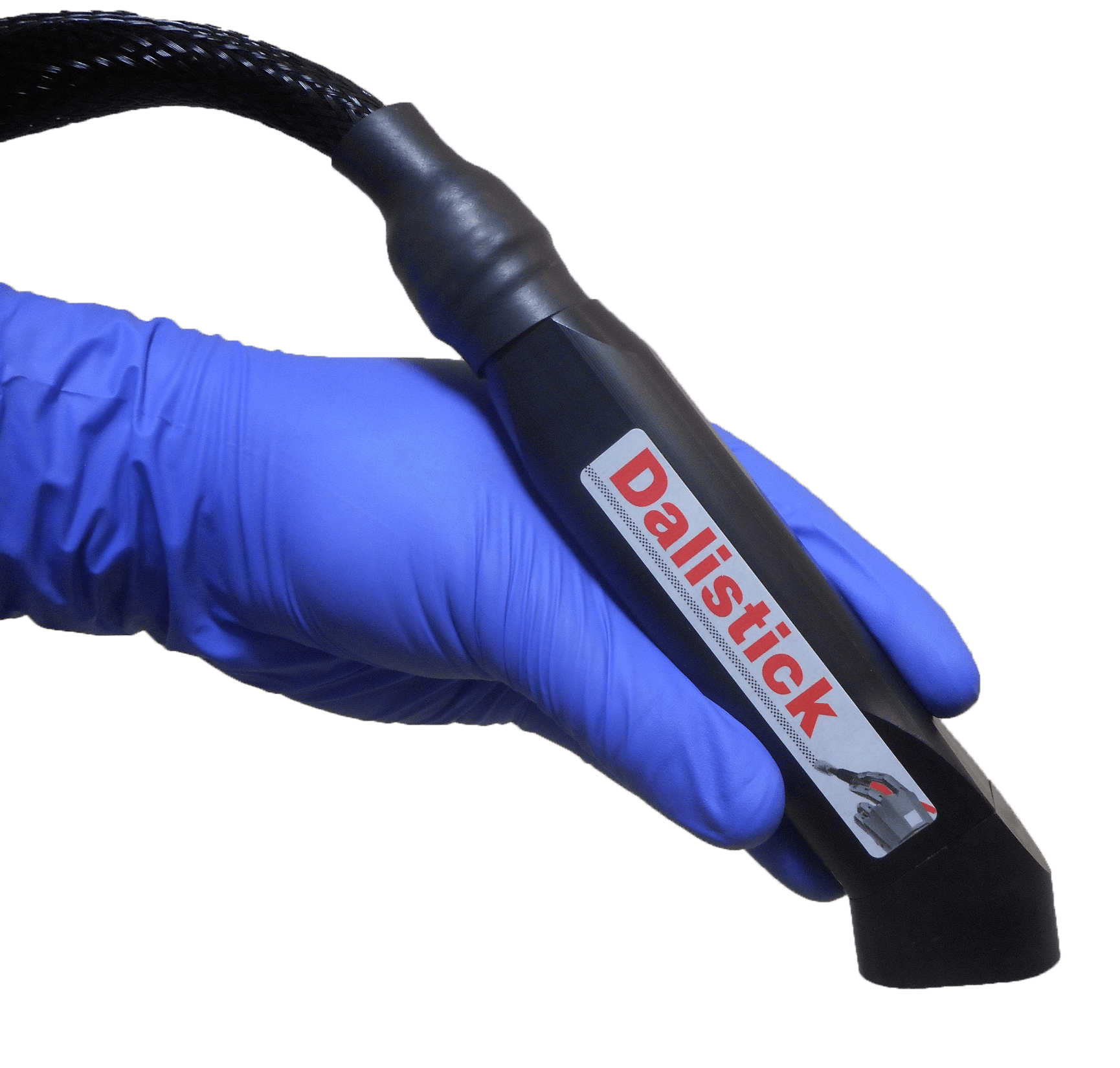 DALISTICK®:

THE BRUSH PLATING EQUIPMENT WITH NO LEAKAGE OF CHEMICALS
The DALISTICK® concept has been designed to carry out selective plating treatments with the DALISTICK tool, anodizing or metallization,under controlled conditions:
Electrolyte : fixed flow, choice & regulation of temperature, indication of the wear rate, waste limitation
Electrolysis : control according to the amount of current, intensity or voltage control
Safety : closed-loop circuit, no contact with the chemicals, indication of the wear rate of the pipes
The added value of DALISTICK® is to allow the realization of electrochemical treatments only on functional areas without electrolyte flow or leakage.
The tool is versatile and can be handled in any position:
flat, vertical or horizontal surfaces: floor, ceiling, etc.

angled surfaces
edges, curved or convex surfaces, concave surfaces with a minimum radius of 100 mm
Several forms of DALISTICK® tools exist and specific developments can be contemplated according to your needs.
For more information, references, please contact us by email:
Dalipump DK2T set
Main features
NEW
You can now combine your old Dalic rectifier with Dalipump DK2T to obtain a "no drop, no leak" device.
Content
A  DK2T dalipump (double head pump)
2 Dalistick tools
2 Dalistick holders
Box of 6 bottles with specific caps
Equipment and tools
Equipment and tools
Dalic offers a wide range of accessories and equipment to ensure quality selective plating treatments:
Rectifiers ME (10A-20V ; 30A-20V ; 60A-20V ; 100A-20V ; 250A – 20V ; etc…)
Dalipump: Electrolyte flow systems
Cooling/Heating tanks
Anodic tools
Turning heads
Measurement instruments for measuring coating thickness
Sandblasting systems
Specific tools on demand
Several forms of tools exist and specific developments can be done according to your needs.
Feel free to ask our  DALIC catalogue:
High quality electrolytes
High quality electrolytes
Dalic manufactures and supplies a wide range of high quality electrolytes
The electrolytes are available in bottles of 1 liter, 5 liters and 20 liters.
Brush plating coatings
Zinc
Nickel
Trivalent Chrome
Cadmium
Tin
Copper
Lead
Alloys (Zinc Nickel, Nickel Cobalt, Nickel Tin Lead, Nickel Tungsten, etc.)
Precious metals (Gold, Silver, indium, etc. )
Anodising solutions
CAA (Chromic Acid Anodising)
SAA (Sulfuric Acid anodising)
Anodising on titanium
PANTA (phosphoric acid non-tank anodising process)
Surface preparation chemicals
Degreasers, etchings and activators
Passivators and depassivators
Non-exhaustive list, feel free to ask if you have a specific need.
 To get our complete product catalogue : 
Consumables & accessories
Consumables & accessories
The Dalic process requires consumables and accessories that will be used at different times in the surface treatment. The consumables needed vary according to the range of treatment:
Bonnettes (fabric covering the anode)
Aluminum, Vinyl and Kapton tapes
Adhesive tapes
Scotch brite
Glass and sanding paper
CC115 abrasive powder
Leads, wires, plugs
Protection gloves, glasses and masks
Sprayers, boxes, containers
Pipes and connectors
To get the Dalic product catalogue :