Services
Services offered by DALIC
DALIC has developed a unique know-how in selective surface treatment. We offer a wide range of services to meet the needs of our customers, including: plating jobs in our workshop, on-site plating jobs, AOG services, customer specific R&D, development of treatments and tools, certification training, calibration and repair.
APPLICATIONS
Dimensional Restoration
Corrosion protection
Wear and tear resistance
Impact and scratch restoration
Hardness , conductivity
Anti-galling
Others
Jobs on mounted parts (AOG)
Jobs on dismounted parts
For small and medium-size series
On new or worn parts
PARTS
All types of parts:
Boring
Shafts
Rollers
Couplings
Landing gears
Engine pylon
Flap tracks
Others
COATINGS
Nickel plating
Cadmium, zinc, zinc nickel plating
CAA, SAA, PANTA, anodising on titanium, hard anodising
Tin plating
Copper, Silver, Gold plating
Chromium plating
SECTORS
Aerospace (MRO, OEM, airlines..)
Energy & Offshore
Defence
Marine
Industrial cylinders
Railway
Specific applications
Repair jobs
IN SITU & AOG PLATING JOBS
An in-situ plating job may be necessary for various reasons: a bulky piece that can not be transported, a very short desired lead time, a sensitive or strategic equipment, or to avoid pollution.
Our specialised and experienced technicians can help you:
Jobs on new or damaged parts

Jobs on any metal parts from any sectors

Treatments on fully integrated systems (

mechanical, electrical, electronic parts..)

AOG services:

Our technicians can intervene urgently (example: stopped production unit, urgent aircraft maintenance)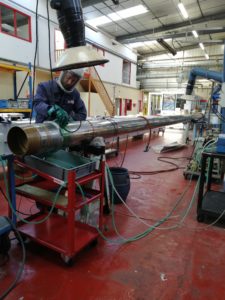 PLATING JOBS AT DALIC WORKSHOP
Our workshop in France is equipped to accommodate your parts following an adapted treatment expertise.
Dalic's technicians specialize in the treatment, repair and control of a wide range of metal parts, from different sectors such as aerospace, rail, energy or defense.
You need a Dalic selective plating job, here is what to do:
Please write us by email or contact us by phone describing a maximum your need (problem encountered, desired deposit, number of areas to be treated, functional need, etc.) You can also send us plans or photos of the parts to be treated.
Training
Technical training to the Dalic processes
Dalic Selective Electroplating is a special process that requires training. In addition, many manufacturer specifications require certification to ensure control of this process.
DALIC CERTIFICATION TRAINING
We offer all our customers technical training in selective plating. The training is taught by a DALIC engineer either in your workshop or in our training center in France.
Each operator who successfully completes the training receives a DALIC Certificate of ability, which certifies its ability to use DALIC technology with or without reference to manufacturer specifications, for a given period.
Certification training for your operators:
In some sectors such as aerospace or energy, DALIC certification is required annually, at the request of the manufacturers (OEM), for repairs on high strength steel.

THE OBJECTIVES OF THE TRAINING
To better understand the metal selective plating technology
To certify your operators as per OEM's requirement
To introduce the different devices and how know to use it

To allow your operators to know the appropriate security rules

To practice by realising treatments on samples
To allow your operators to be autonomous
To demonstrate the process on a real part if needed
To know the cleaning steps of your equipment
To respect the environmental rules
To know the basic maintenance step of your equipment
OUR MAIN TRAININGS
Cadmium
CAA / SAA anodising
Copper
Zinc Nickel
Nickel
Silver
Zinc
Tin
WHAT WE NEED TO KNOW
The number of trainees
Experienced or new platers
Specifications to follow
Substrates to plate (HSS, stainless steel, copper…)
The equipment and consumables you have
Repair & calibration
Calibration
DALIC offers a specialized calibration service, so that your DALIC equipment is always operational and the treatment process is under control.
This calibration can be carried out in our workshop or by a DALIC engineer during the technical training on your shop.
Repair
In the event of a breakdown, our maintenance team can repair your equipment. Each repair will be followed by a calibration and a guarantee. Our technicians can also help you by phone or by email if you have a problem. Therefore, we advise you to contact us before sending back your equipment.
R&D
Research & development
R&D
Chemistry
Our Chemistry department can help you on different topics:
Customer specific needs (trials, qualification..)
REACH regulation evolution

Simplify the implementation of processes

Questions concerning MSDS/TDS
R&D
Equipment and consumables
Our technical department aims to:
Develop better tools
find solutions according to customer needs

Expand our offer of products and services
Example : Larger Dalistick tool, FSW anodising, anaphoresis, mini bath tank, DK2T Dalipump, etc.